Platforms and Walkways
Platforms, Gantries and Bridges play an important role in providing safe access to plant and equipment.
Larger platforms and mezzanines, available with open type flooring or solid type flooring, can provide additional storage areas.
Dependent upon the nature of the project and the environmental demands being placed upon it.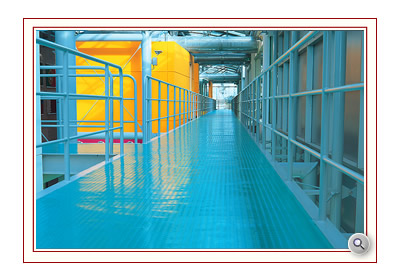 EPSL provides all products in a comprehensive range of materials and finishes including ...
Aluminium Alloy
Stainless Steel
Mild Steel
GRP
Brass
Staircases
Staircases form the primary link between differing levels of floors, platforms and walkways.
It is vitally important that adequate consideration is given to design characteristics such as 'rise' and 'go'. This will be governed by suitability for purpose. anticipated frequency and volume of use. As with platforms, stairs may be fitted with solid or open type treads. Risers may be closed but are more usually open for industrial applications.
With using the latest technology and years of experience, EPSL seek to relieve the customer of many design related problems and welcome the opportunity to help.

Spiral and Helical Staircases
This type of staircase has many applications in residential, commercial and industrial situations.
However, whilst the spiral is economical on floor area required, it is more hazardous to the user.
The design of spiral staircases is usually based on a central column and vary in diameter to suit frequency and volume of usage.
Wider stairs are far safer and some authorities stipulate minimum requirements. Care must also be exercised in checking for adequate headroom.
Helical staircases are more user friendly than spirals and are generally suited to much larger volumes of pedestrian traffic. Spiral and Helical staircases and architectural metalwork in general create a particularly demanding set of challenges. With EPSL experience, these demands and problems can be kept to a minimum.